Many game lovers for various reasons try not to mess with gaming laptops. Someone frightens off the price, somebody has difficulty with the upgrade, and some – the fact that really powerful and truly gaming laptops capable of drawing modern games at high quality settings and in high resolution, while giving the user convenient controls and quality display, up to insulting a little. In all respects, from the processor and graphics adapter to the convenience of working with built-in input devices, the laptop almost always loses its desktop counterpart with a high-performance hardware base. Well, the difference in value between them helps to decide definitively with the choice. Naturally, not in favor of the laptop.
The new gaming laptop of the company MSI with the long name MSI GT80 2QE Titan SLI can change the current situation. The manufacturer is modest about this, but this model seems to be not just one of the most productive mobile gaming machines, but literally the most productive one. In the GT80 2QE Titan SLI, one of the most high-performance modern mobile processors coexists with a pair of powerful NVIDIA GeForce GTX 980M graphics cards combined in SLI mode, as well as with a full-sized keyboard SteelSeries with full Cherry MX mechanical switches – like desktop gaming keyboards. The manufacturer proudly declares that this is the first notebook in the history to have a mechanical keyboard with illumination.
The laptop comes in a large, but surprisingly thin box of black and red colors with a plastic carrying handle. The weight of the box is rather big, so it is not recommended to walk with it on foot for long distances. Inside, in addition to the device itself, an impressive set of accessories was found:
We will return to the accessories a little later, so now we only note that the package really pleases the eye, but the question of why in the box with one of the most expensive gaming laptops in the world there is no basic cover for transportation, it remains open. It's still a mobile PC, and MSI is just famous for not depriving most of its gaming models with a regular cover. In the case of the GT80 2QE Titan, this would be especially important, since it would not be easy to find a suitable bag for such a huge device.
* Average price according to "Yandex.Market" data at the time of writing
The laptop comes in several modifications, differing in the processor, as well as the amount of RAM and disk subsystem. We were tested for the option in the maximum configuration: it is based on a quad-core Intel Core i7-4980HQ processor, built on the Haswell architecture. It has 6 MB of cache memory and runs at a base clock speed of 2.8 GHz, increasing to 4 GHz with one active core or up to 3.8 GHz with four active cores in Turbo Boost mode.
This processor appeared only in the third quarter of last year, so laptops based on it are only just beginning to be sold. It would be wicked to call it the most productive mobile processor for today, after all the models of the Extreme series are still produced. For example, there is an Intel Core i7-4940MX with advanced overclocking capabilities, but it has almost 20% more TDP than the Intel Core i7-4980HQ, and is 57W compared to 47W, respectively. For a high-performance laptop, such a significant difference in times complicates an already difficult cooling system. The choice of the processor is more than justified, since it is comparable in its capabilities to desktop high-performance solutions.
The Intel Core i7-4980HQ processor works with a maximum of 32 GB of DDR3L-1600 memory. In this modification of the MSI GT80 2QE Titan SLI notebook these features are used 100 percent. All four SO-DIMM slots on the motherboard are occupied by the DDR3L-1600 HMT41GS6BFR8A-PB modules manufactured by the South Korean company Hynix Semiconductor of 8 GB each.
The basis of any gaming laptop – video adapter – in this case it is necessary to classify to the key features of the novelty. As a rule, this hardware component is a weak link in the mobile gaming PC, which does not allow to compare it fully with desktop solutions. But MSI GT80 2QE Titan SLI will give a head start to its desktop brothers: it features the two most powerful NVIDIA GeForce GTX 980M mobile graphics cards today, combined with SLI technology. These discrete cards are based on the GM204 chip, built on the Maxwell architecture, and operate at 1038 MHz. Each graphics card has 8 GB of GDDR5 memory with a frequency of 1253 MHz (effective frequency of 5 GHz). The notebook itself has three video outputs: one HDMI version 1.4 and a pair of Mini DisplayPort interface versions 1.2, to which three monitors with resolution up to 3840 × 2160 pixels can be connected simultaneously.
Also MSI GT80 2QE Titan SLI can work and with built-in graphics Intel Iris Pro Graphics 5200. This is one of the most productive embedded solutions today, based on the core GT3e and featuring the built-in memory Embedded DRAM (eDRAM) with a capacity of 128 MB. The eDRAM memory can be used to store data not only from the GPU core, but also from the CPU cores, which positively affects the processor performance. In the case of the MSI GT80 2QE Titan SLI, the only thing that is really important to know about the integrated graphics is that the laptop can switch to it – that is, it can work from the battery at least some noticeable time. Not all gaming laptop manufacturers leave the processor graphics active. The GPU button allows you to manually switch from one video adapter to another – in case the automatic switching for some reason did not work (and this happens on many laptops).
The second key feature of the MSI GT80 2QE Titan SLI (after two video cards in SLI mode) is its high-performance disk subsystem. Or rather, its two parts. The first is not noticeable – it's a 2.5-inch hard drive HGST Travelstar 7K1000 (HTS721010A9E630) produced by the company division Hitachi . It has the maximum capacity of 1 TB for the models of this line, a buffer memory of 32 MB and operates with an eSATA 6 Gb / s interface and a spindle speed of 7200 rpm. This disk is divided into two logical partitions, the bulk of which is empty, and 12.89 GB are given under the recovery partition.
If you plan to store various data on the hard disk, then a virtual disk is created for the system files and installed games on the basis of a RAID array assembled on four M.2 solid-state drives, which are Toshiba THNSNJ256G8NU modules with a capacity of 256 GB each . The array has its name MSI Super RAID 3, but in fact it is a usual RAID 0. For the user, this means an unsurpassed speed of working with data – about 1600 MB / s for reading and about 1300 MB / s for writing. Even among the owners of high-performance desktop gaming computers, there are a few lucky people who can boast of such performance values ​​of disk subsystems. To understand the performance level of such a RAID array, it's enough to say that the OS on this laptop is loaded in about four to five seconds.
The laptop is equipped with an optical drive Blu-Ray Hitachi-LG HL-DT-ST BD-RE BU20N and a reader for flash cards format SD (XC / HC). For the sound answer unremarkable module Realtek ALC892 and quite an interesting system with two pairs of stereo speakers and a subwoofer from the manufacturer of Hi-Fi-acoustics, the company Dynaudio, with which MSI has been cooperating for five years. In addition, the notebook has three independent sound amplifiers for four speakers, a subwoofer and a linear audio output. The latter can be connected headphones with an impedance of up to 48 ohms. In addition to the analog audio output, the MSI GT80 2QE Titan SLI also has a digital optical S / P-DIF output, as well as a microphone jack.
The network interfaces are represented by a gigabit Ethernet controller and a Wi-Fi 802.11 b / g / n module. Also on the motherboard is a PCI-E-controller Killer e2200, which combines wired and wireless interfaces with Killer DoubleShot Pro technology, which can significantly increase the overall network bandwidth. Complement the picture of a set of USB ports of five, and all of them have a specification 3.0.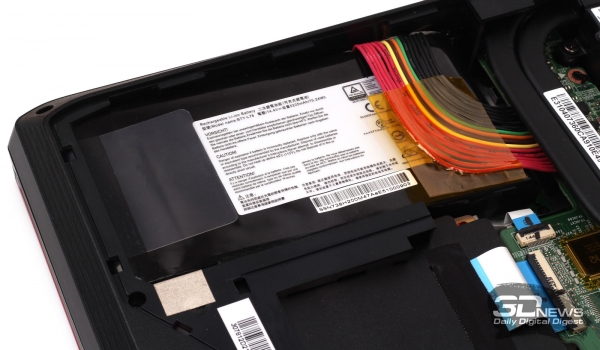 The rechargeable battery is built into the case. Its capacity is 75 W * h (5225 mAh, 14.4 V). To charge the battery, as well as to operate the laptop from the network, a power adapter of really impressive dimensions and weight is used: 200 × 100 × 43 mm, 1.3 kg. The adapter has an equally impressive output power – 330 W (16.9 A, 19.5 V), comparable to the power supplies of desktop PCs.
⇡ # Design and ergonomics

Developers MSI GT80 2QE Titan SLI managed to pack all high-performance hardware stuffing, including a rather large cooling system, in a relatively thin case. At the same time, there was room for designer delights, which are quite enough for the novelty. Traditionally for a serious gaming laptop, this model is executed in a characteristic brutal style. The case with all its ribs of rigidity and cooling ventilation grilles suggests something like a sports car, or something about a spaceship. In short, it immediately sets the user to the game mode.