⇡ # Who's thinner?
On the question asked in the title of the chapter, notebook manufacturers are trying to give an answer every year in a row. The year 2016 was not an exception. No one is surprised by ultrabukom or "transformer" with a thickness of 12-14 mm – this is a passed stage, and the first attempts to create such a device were made at all several years ago. So at the beginning of the year, HP decided to move to a new level and introduced its "world's thinnest Ultrabook" Specter 13 10.4 mm thick, though without taking into account the protruding legs (apparently, they generally no one takes into account – not only HP).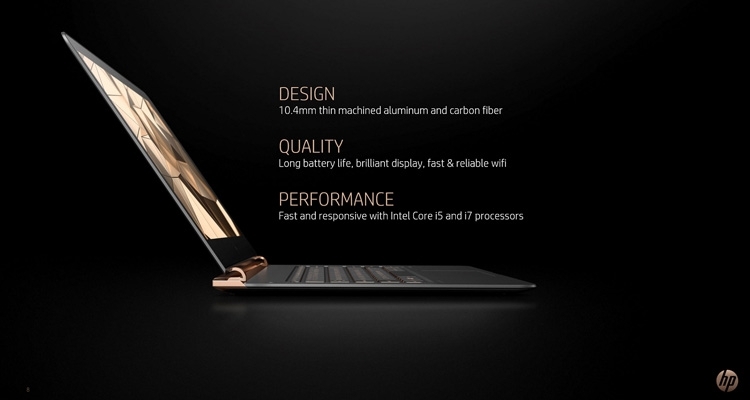 The corporate giant did not limit the performance of its novelty to the capabilities of the processors of the Core M family and installed a more powerful CPU of the Core i ULV series. It is much hotter, as a result, we had to put in an active cooling system, which automatically added one minus the device (it was noisy), and the minimum thickness of the case cut the battery capacity and, accordingly, added a second – a low battery life. It turned out a fashionable ultrabuk for a lot of money, not able to offer anything more than a little more oversized and long-selling models.
At the end of the year, the answer to the ultrathin ultrabook HP came from Acer. The Asian company announced its new series of Swift devices which is headed by a model with a figure of 7 in the title. It is a laptop-transformer with a total thickness of a monolithic aluminum body of less than 10 mm. Perfectly understanding the scope of its device, the manufacturer did not dodge and took advantage of the latest Intel 7-generation processors with a TDP of 4.5 watts, which made it possible to dispense with a passive cooling system – it is much more suited to this segment.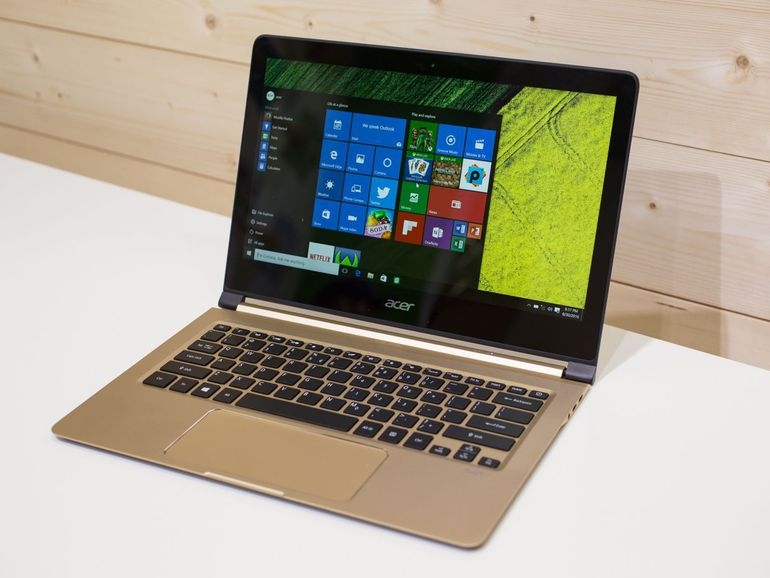 It turned out to be a device that is not as beautiful as the HP Specter 13, but it can be transformed into a tablet due to special loops that allow the screen to be rotated 360 degrees. In our tests Swift 7 showed not the best results, surprising us only with its autonomy and huge touchpad. And also by the price: the model is offered in a small number of modifications with an initial price of 100,000 rubles (at the time of writing this text). Perhaps this is not the best investment of money, but, on the other hand, it is an alternative to the Apple MacBook with about the larger size of the display. And the truth is, why not? Here the main thing to forget about the difference in weight …
Laptops and ultrabuks with touch screens, laptop-transformers, devices "2 in 1" (they are hybrids and "tablets") – all this is familiar to our readers for several years. And nothing would have changed if Lenovo had not submitted its Yoga Book – a device from a new reality that was difficult to attribute to a particular segment last fall.
This is a 10-inch device, equipped with the iron level of an expensive tablet. In the case of a thickness of about 8 mm, with loops that open up to 360 degrees, but with an ultrabook or a classic transformer, you can not call it: if the upper half is a normal Full HD touchscreen IPS display, the lower half is a touchscreen keyboard with backlighting, a graphic tablet for drawing with a special pen. The concept itself captivates, but even more novelty strikes its size and weight, when you take it in your hands – yes, the tablets are smaller, but we have not seen such light laptops or netbooks for a long time. More information about our impressions you can read in the relevant review .
For those who are less than 10 inches, Lenovo is preparing a 12-inch version of the Yoga Book, which should not be much more expensive than its relatively affordable younger brother. Recall that we are talking about $ 450-550 depending on the selected version of the OS – Windows 10 or Android 6.0. In addition, there are rumors about the possibility of the release of versions with Chrome OS on board – interesting, but only for the fans of this "OSes."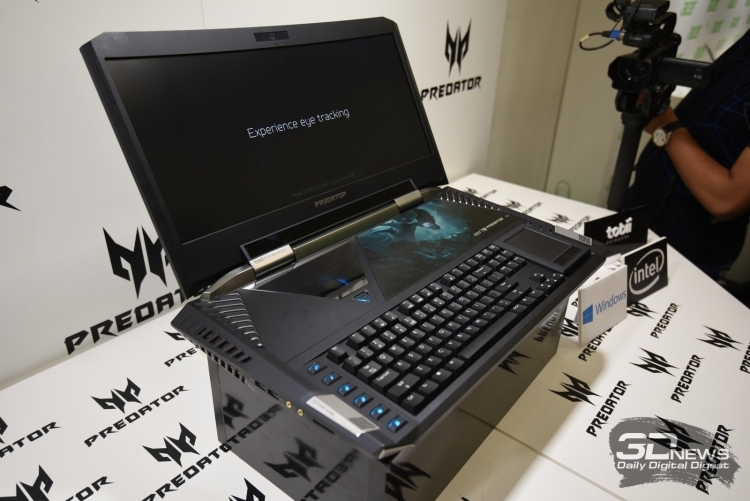 The Acer company managed to hit the public, which showed on the IFA 2016 a prototype of a 21-inch gaming laptop with a curved screen – Predator 21X with two newest GeForce GTX 1080 onboard. The device is exclusive, present it on your desk – like a terrible, but painfully pleasant dream. Pleasant, because it is really a miracle of engineering thought with a powerful filling, and terrible, because it is almost impossible to carry such a laptop, but it costs from $ 9 000. It is possible that before the retail device, if it does, it is very small lots. However, these are only our guesses, and time will tell whether we were right – or not.
⇡ # At last they waited: NVIDIA GeForce 10×0 and transfer GTX 980 to the mobile segment
The notebook market this year was pleased with the release of new graphics adapters NVIDIA. This is a symbolic and certainly long-awaited event – the new cards proved to be so much more powerful and more economical than the old ones that buying laptops from the GPU of the previous generation now looks extremely illogical. The only possible reason to make such a choice is the sharply reduced price for laptops with old graphics, but we do not see anything like that yet. So down with the old – hurray the new.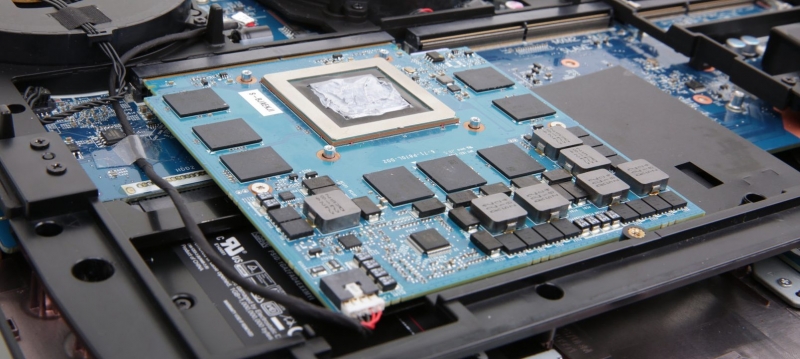 Initially, the tenth family was represented by three cards: the GTX 1060, the GTX 1070 and the top GTX 1080. By the way, for the first time in its practice, NVIDIA abandoned the M (Mobile) name in the name of "notebook" accelerators, and the performance of all three GPUs for laptops are almost no different from full versions for PC. A small difference is only in the operating frequencies, but it can be completely leveled, depending on the wishes of the producers and the effectiveness of the used COs.
The new GeForce GTX 1060 performed according to the 16 nm FinFET standards, is ahead of the former GTX 980M flagship and almost equally competes with the usual GTX 980, officially transferred to NVIDIA mobile segment without any loss of the volume of the work units in the summer of last year . Just a gift to buyers of new laptops.

The middle class, represented by the GTX 1070, demonstrates a very high level of performance. This card has as many execution units as the full GTX 980, but higher than the GPU and video memory frequency, and energy efficiency is also higher. This will allow notebook manufacturers not to create monster-mutants, bypassing medium-sized air cooling systems.
The GeForce GTX 1080, the king of mobile graphics for the next year, will no doubt be used in the most expensive solutions (in the desktop segment, later the faster cards – 1080 Ti or Titan) can be used. In the peak (Turbo mode), this graphics processor is almost twice as fast as the GTX 980, not to mention its mobile version. What will happen when using two new flagships at once – it's scary to imagine. Here, any 4K sea is knee-deep.
The latest novelty was the graphics of the budget class under the name GeForce 1050 Ti which was introduced much later than the main trinity and was made using an even more energy efficient 14 nm FinFET process. To the great happiness of consumers, according to preliminary tests of Western media, this "kid" allows you to run many modern games in Full HD-resolution with quite a decent frequency and even slightly outperforms the GTX 970M – a map of the middle-upper price range from the previous series. Thanks to NVIDIA for our bright future, which can be found even in the most affordable half-game laptops!
⇡ # Kaby Lake in action. Is it necessary?
From the Skylake era, we move on to the introduction stage in all possible novelties of Intel 7th generation processors, code-named Kaby Lake. Apparently, these are the last processors of the corporation, made using the 14-nm process technology. They, in fact, are a little brought to mind "skayleiki." Talking about architectural changes is not the format of today's material, besides, we are concerned only with the CPU version for laptops and various "hybrids". And Intel did not have so many of them .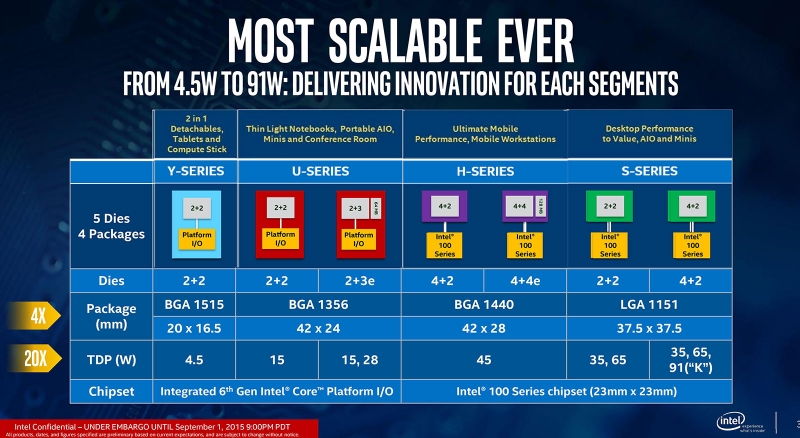 What do they promise us? Everything is as usual: increased energy efficiency, hardware support for encoding / decoding of new codecs, increased clock speeds – both basic and TurboBoost mode – and, accordingly, about higher performance compared to previous generation CPUs. The difference on the average varies somewhere in the range of 5-14%, but occasionally reaches 23-26%. However, all this does not concern the graphic component, which remained at a familiar level. Changed only its name – now the integrated graphics are called Intel HD Graphics 615.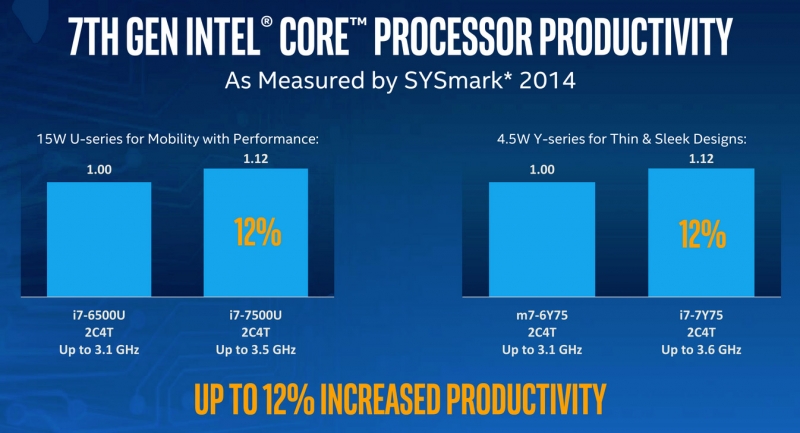 Unfortunately, we have not had time to get acquainted with a lot of new products on Kaby Lake, but testing one of them – ultrabook-transformer Acer Swift 7 – demonstrated that there is no real growth in speech performance. Whether we use "wrong" tests, whether the device itself has not turned out very well for Acer. Well, the future and 2017 will bring everyone to clean water.
Separately note the fact of the transition of certain processors with a TDP of 4.5 W, originally referred to the Core M series (from Skylake versions), to the Core i family. Apparently, Core M for Intel became a household name – some buyers did not even want to look at devices with such a filling. There is another opinion – there was not a dramatic difference in performance between the old Core M and Core i U-series, and there are no new ones in it either. In this context, the decision to rename looks much more logical. But then why was there to leave some Core m3 for the most low-end processor? Why all this confusion?
⇡ # Wait! Where are my connectors?
For lovers of connecting to their mobile PC many different devices of the novelty of 2016 – like a knife to the heart. The desire of manufacturers to make their laptops more portable leads to the fact that more and more models are deprived of many interfaces that have caught on to users. Fortunately, this trend has not affected much of the large multimedia and gaming laptops, but lovers of compact devices will not have to be sweet.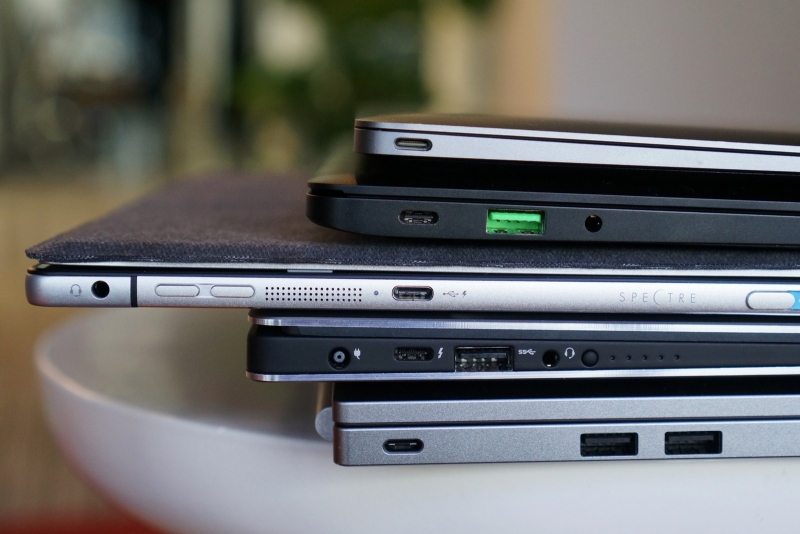 USB 3.0 / 3.1 Format Type-C – once a concept that has become a modern reality for the vast majority of ultrabooks, transformers and hybrid devices. And if initially manufacturers limited to one or two of these connectors, now it is often possible to meet just three or even four ports. And the companies do not limit the scope of their use, because often each of them allows not only to connect a variety of peripherals, but also to charge the device. Moreover, in most cases, the transmission standard Thunderbolt 3 is supported with output to the image source with a resolution of up to 4K with a vertical scanning rate of 60 Hz. Not forgotten, of course, and the transmission of sound.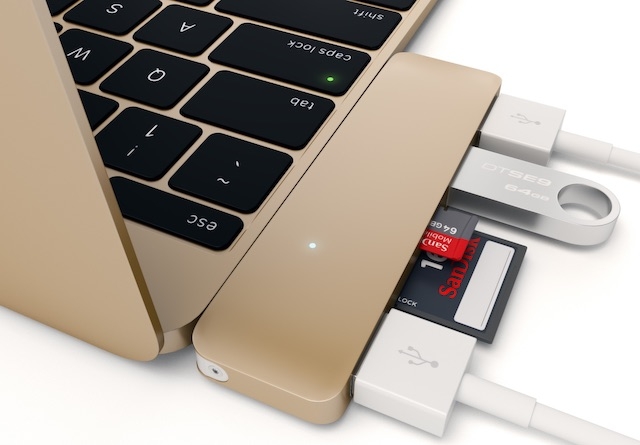 Not only Apple, but also other manufacturers have switched to the USB Type-C, and some of them are put in a box with an adapter laptop – from USB Type-C to RJ-45 (Ethernet), HDMI, DisplayPort and the usual USB 3.0 Type -A. And on the sale it became easy to find various hubs-hubs at once with a lot of interfaces, that's just the price for them leaves much to be desired. Nevertheless, without a handful of adapters or an external "hub" is nowhere …
⇡ # Apple, wait! What are you doing?
On our site in late November, material on the shortcomings of the new Macbook quickly gained popularity and became one of the leaders in the views. Indeed: the release of the new Apple MacBook Pro is a landmark event. But we will not retell the one written by Viktor Zaikovsky, but simply turn to the facts.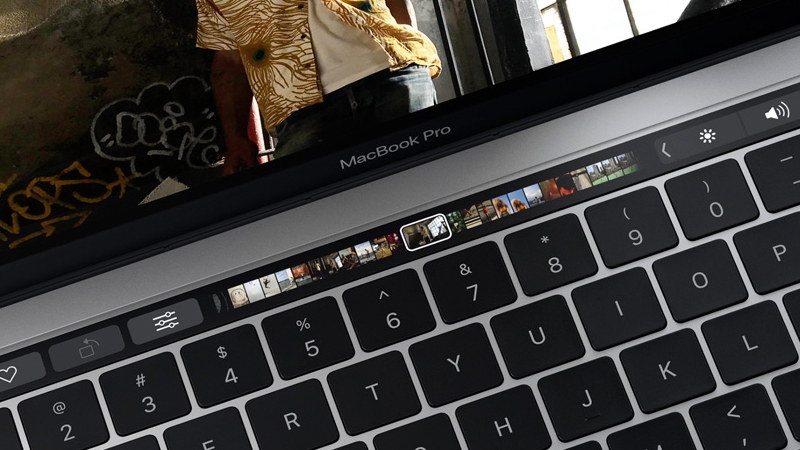 New items, as before, came in the formats of 13- and 15-inch devices, acquired the latest CPU and GPU. There were modifications with a new graphic touch strip TouchBar and without it (for the 13.3-inch version). Updated laptops have become thinner and lighter, but turned out to be completely non-repairable . Drove into oblivion so loved everyone safe charging port MagSafe – now, to recharge the battery, you need, like other laptops, to use a modern USB Type-C port. Actually, two or four – depending on the version – such connectors were replaced in general by all other ports, only 3.5-mm audio jack remained intact. As a result, the Internet is full of photos with endless tentacles of adapters, departing from the MacBooks, and the prices for hubs in "MacBook" design are often much higher than for some others. In the future, when the periphery under the USB Type-C becomes larger, this approach will justify itself, but for now it looks like a form of mockery.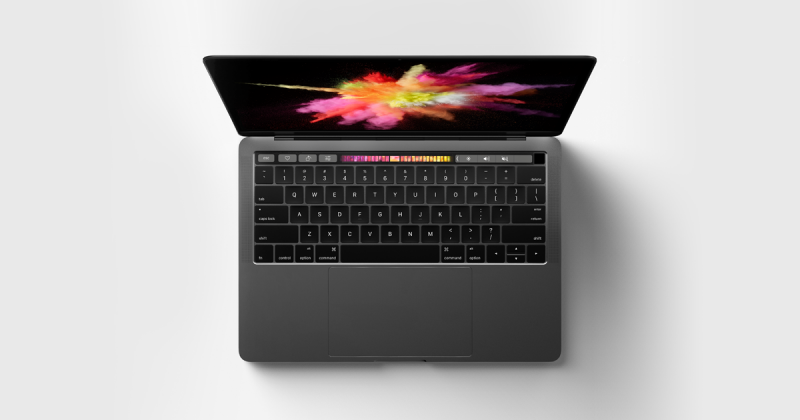 The appearance of new products has also changed. New fashion Apple in recent years – to present several options available colors. Now this applies to laptops – a darker Space Gray and an ordinary Silver are available. Oh, yes, it's not a small touchpad anymore. In general, changed a lot of things, but most of the changes are rather ambiguous.
⇡ # Screens with a vertical development of 120 Hz – now for notebooks
Time passed screens with low resolution and far from ideal TN + Film matrices. These consumers do not lure, so these displays remained only in the segment of the most affordable devices, where all models are similar to one another and do not shine with technical characteristics.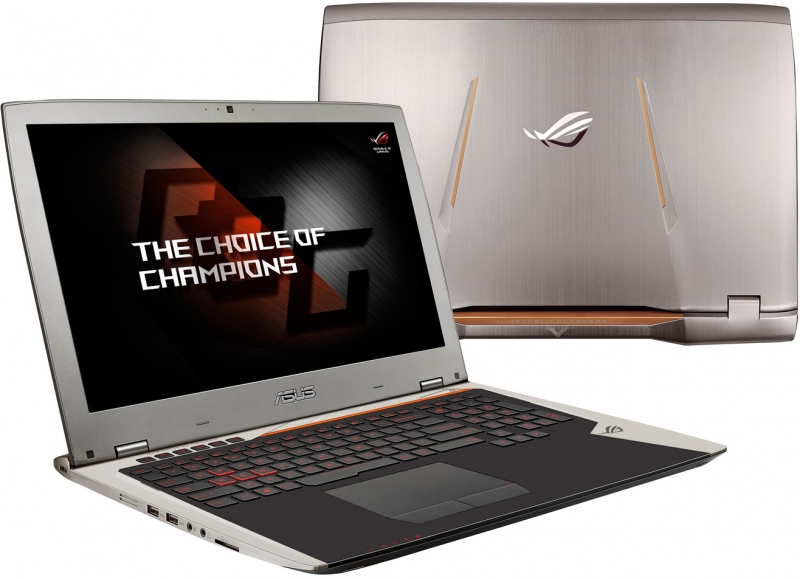 Among more worthy laptops with a price from 35-40 thousand rubles, more and more models get Full HD IPS-type-matrices – they become the norm. True, such panels can not boast of speed, so many gamers look at devices with similar screens with contempt. "What, is this a gaming laptop?" They ask. Indeed, stationary monitors with the frequency of vertical scanning of 120 Hz or more have existed for a long time, but for some reason this "revolution" has not reached the segment of laptops for some reason.

But at the end of 2016, finally, their turn came. Laptops with IPS-type screens with the development of 120 Hz were presented by three main players in the market – ASUS, Dell with its Alienware brand and MSI. The first officially uses AU Optronics AHVA-matrices two others, apparently, do the same. About the benefits of increased staffing, we have spoken in our reviews of monitors more than once. Moving to such displays from the standard 60 Hz, you will first be amazed at the smoothness of the playback of the image when performing any actions, and then ask yourself: how did I live without it before? For real maniacs of games that prefer mobile PCs, nothing is better yet to come up. However, without 150-200 thousand rubles in your pocket, allocated for the purchase of a laptop, you can not even think about such goods.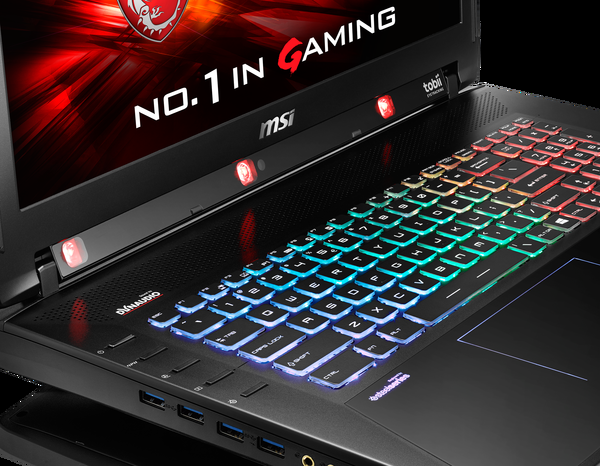 Special cameras and sets of cameras to control the eyes are not a novelty this year, but they were not able to get at least some widespread distribution. Until now, ignorance about the existence of such devices is affecting, conflicting information about the quality of their work, and some, of course, frightens the price of worthy samples. But the past year 2016 could be a turning point – one of the founders of the region, Tobii, previously engaged in professional tracking systems, decided to knock on the leaders of the IT industry in order to integrate its EyeX control system into their laptops and even in monitors . For example, Dell Alienware and MSI have already launched laptops with such systems.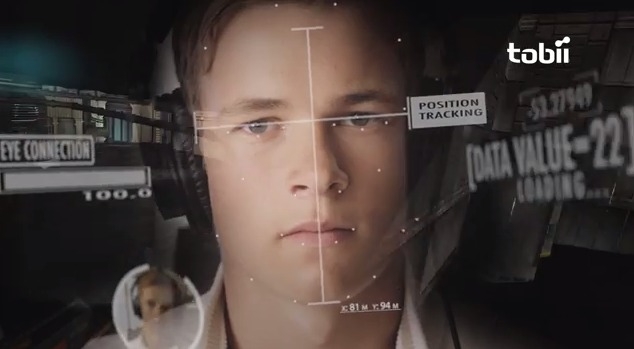 The EyeX system itself consists of several sensors / cameras that fix the position of not only pupils sitting behind the laptop, but also his head. Together, this allows you to control the mouse cursor in normal applications in the OS environment and constantly keep abreast of what's happening around in various games, from simulators to online action games and MMORPGs. It seems that everything is simple, but this greatly increases the degree of immersion in what is happening on the screen. If there is an opportunity, try this or similar technology, it will surely impress you.
⇡ # Forecast for the year 2017
In the coming year, we are waiting for a massive update of the model series of all leading manufacturing companies. Novelties will be switched to new Intel processors and new graphics adapters. But the obvious jump in performance users will be able to get only when moving to a new GPU – the difference from a CPU change will be negligible, if at all.