It is difficult to unequivocally answer, what happened in 2017 in the market of gaming laptops. On the one hand, Intel and NVIDIA did not provide a new hardware that would significantly increase the performance of mobile devices. As in 2016, the best solutions are the quad-core Kaby Lake processors and the GeForce GTX 1080 graphics. On the other hand, there are models on the market that, in my opinion, marked the beginning of a new era – an era when really powerful gaming laptops finally came to life, then ceased to be unbearable "coffins."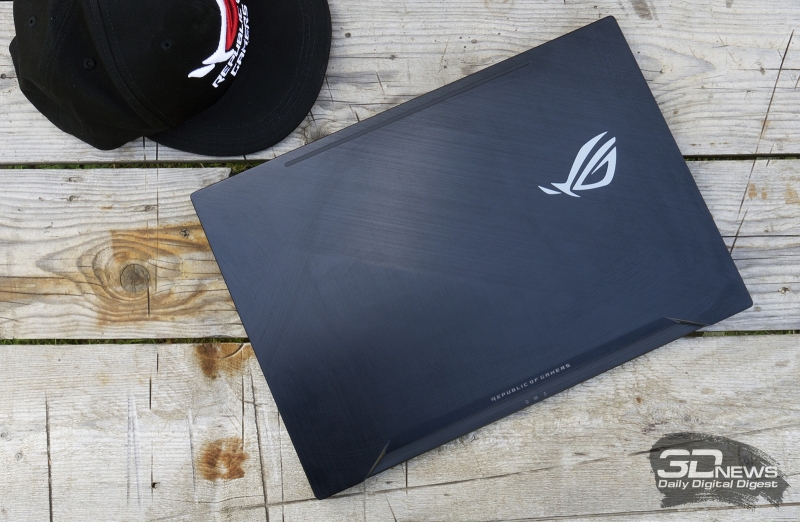 ⇡ # Who is the most powerful in the world
Notebook graphics NVIDIA Pascal appeared in 2016, and it was a real revolution! For the first time, laptops were almost equal in performance in games with desktop computers. Against the backdrop of the mobile GPU generation Maxwell, the new graphics of the "green" has become noticeably more productive. Thus, NVIDIA's flagship GeForce GTX 1080 is on average twice as fast as the GeForce GTX 980M.
In 2017, the line of gaming GPU Pascal was formed finally. At the time of writing, notebooks with eight versions of graphics accelerators were on sale: GeForce GTX 1050, GeForce GTX 1050 Ti, GeForce GTX 1060 3 GB and 6 GB, GeForce GTX 1070 (standard and Max-Q design), GeForce GTX 1080 conventional and in Max-Q design).
Unfortunately, NVIDIA in 2017 did not submit a mobile version of GeForce GTX 1080 Ti, and therefore the most productive portable systems are still equipped with two video cards. I think the notebook version of the GeForce GTX 1080 Ti is unlikely to be born, because now NVIDIA is actively developing game solutions based on the Volta architecture. The graphs below show the results of most models in Full HD resolution.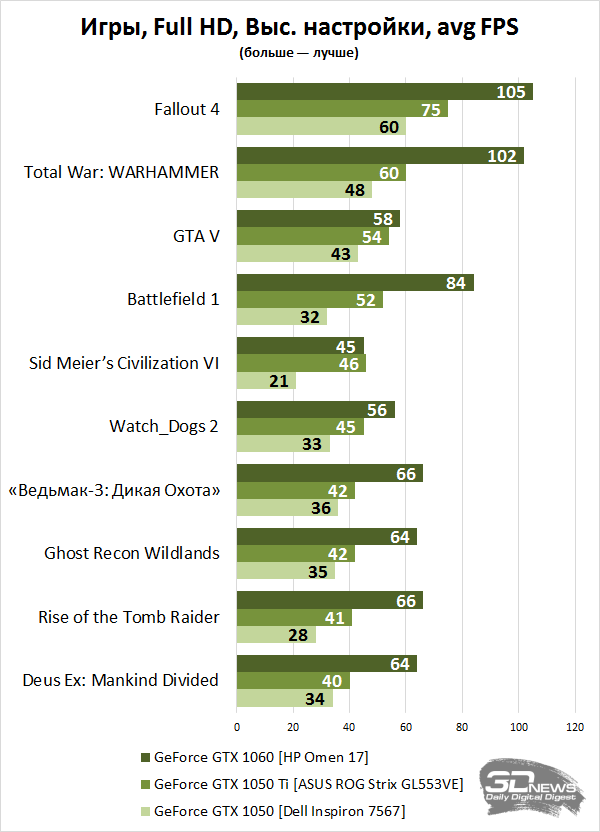 As you can see, even notebooks with graphics level GeForce GTX 1050 can be called gaming, because the performance of this GPU is enough for modern games on average graphics quality settings . And certainly such models will cope with popular multiplayer games such as CS: GO, Dota 2, League of Legends and StarCraft II.
Optimum performance, in my opinion, has laptops equipped with mobile versions of GeForce GTX 1060 (6 GB) and GeForce GTX 1070 (8 GB). Owners of such models can be absolutely calm: in 2018 they will be able to comfortably play all the novelties on high and very high settings of the quality of graphics.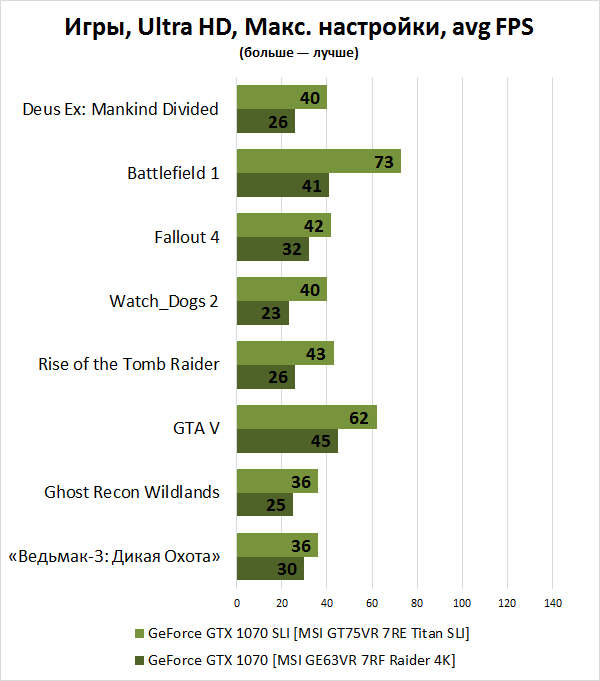 But even in 2017 there was not much point in buying a gaming laptop with a 4K-screen. Firstly, on 15- and 17-inch screens, there is not much difference in the quality of the image. Secondly, even a couple of powerful GPUs in most cases are not able to provide a comfortable FPS with maximum graphics quality settings. So Full HD is still considered the best option for a gaming laptop. If you want to spend a little more money – it's better to buy a model with IPS-matrix .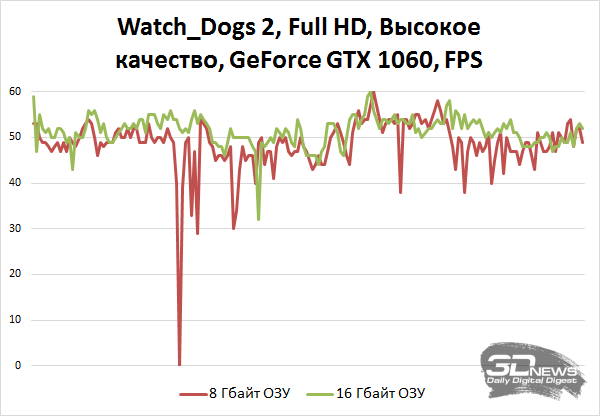 Since I started talking about the optimal combinations of the components of a gaming laptop, it's necessary to note that any model in 2018 will not exactly interfere with 16 GB of RAM. Our experiment showed that using only 8 GB in the system can lead to lag during the game under certain circumstances, as many modern projects require more than 8 GB of RAM for high graphics quality settings. Data that does not fit into the video memory is written to the system memory cells of the laptop. And already with a lack of RAM, a swap file is used – it is used to store virtual memory pages. Using a swap file on the hard disk will result in noticeable FPS drawdowns. The game will be uncomfortable, although the average number of frames per second, shown in a particular game, can be quite acceptable.
In fact, many aspects of the choice of a gaming laptop are considered in this article . The guide will be relevant exactly until the moment when Intel and NVIDIA (and, possibly, AMD) will not present the new components and thus will not raise the performance of laptops by one more step.
In 2017, NVIDIA introduced another mobile GPU – GeForce MX150. In fact, this is an analogue of the GP108, which is used in the discrete GeForce GT 1030 graphics card. For modern games, even at medium settings such graphics will not work, but with multiuser undemanding projects it will easily cope – the GeForce GT 1030 is coping .
⇡ # Getting lost in the three pines
If over the choice of laptop graphics will have to properly break his head, then this can not be said about the choice of the CPU. In 2017, the user was available, in fact, only models of laptops with quad-core "stones" Core i5-7300HQ, Core i7-7700HQ and Core i7-7820HK. That's the whole choice. Test results clearly demonstrate the enormous difference in performance between Core i5 and Core i7. Therefore, if you need a laptop not only for games, but also for working in resource-intensive programs, that is, the reason to purchase a model with an older version of the CPU.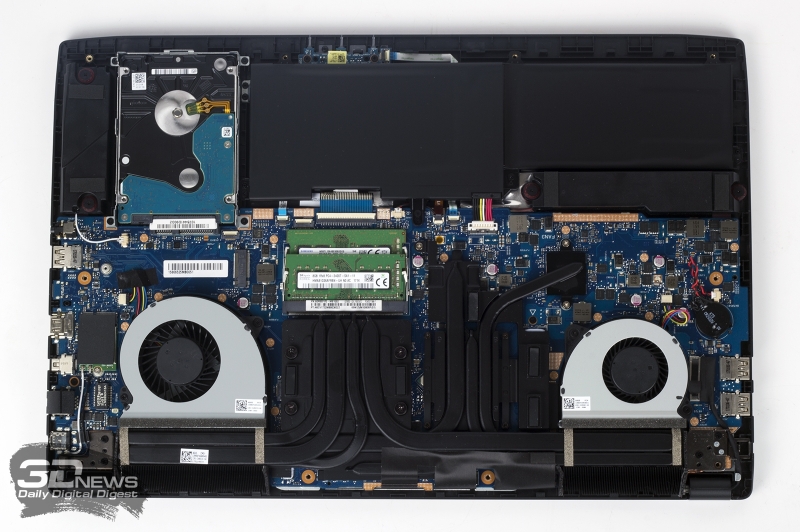 But the "choice" is too much said, since many gaming laptops are equipped with only one particular CPU model. Variability – the choice between Core i5-7300HQ and Core i7-7700HQ – is only observed in inexpensive models. So, in notebooks with graphics level GeForce GTX 1070 and higher in the vast majority of cases installed Core i7-7700HQ. The Core i7-7820HK processor is used mainly in very expensive models with a price of 200,000 rubles. This CPU has an unlocked multiplier, and on some laptops it can be overclocked to 4-4.5 GHz.
In general, Core i7-7820HK is not the most productive (without overclocking) laptop Kaby Lake. The fastest is the quad-core model Core i7-7920HQ, whose frequency in multi-threaded applications from the base 3.1 GHz is increased to 3.7 GHz. Only this chip is used in just a couple of models from MSI.
And some companies do not hesitate to use desktop CPUs in super-expensive models – the same Core i7-7700K, for example. True, in Russia, such laptops are considered to be the most curious.
As a result, the choice of CPU in the gaming laptop is relevant only for models with graphics level GeForce GTX 1060 and below. And here everything is quite simple: in the reviews, I pointed out that the performance of the Core i5-7300HQ is sufficient for revealing the potential of the budget graphics of NVIDIA Pascal. For example, the chart above compares notebooks Acer (with Core i5-7300HQ) and ASUS (with Core i7-7700HQ). In these laptops the same GPU is installed, and therefore the devices demonstrate similar results in games in Full HD resolution.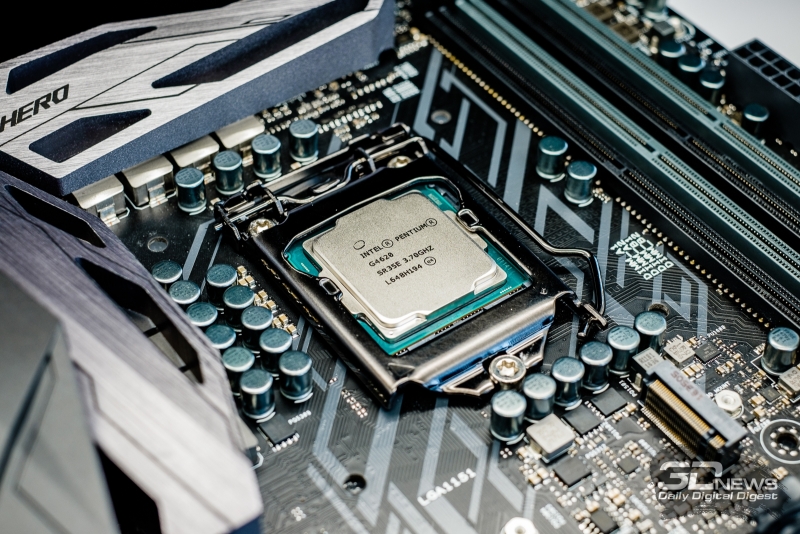 In early 2017, Intel introduced the desktop processors Pentium generation Kaby Lake. These chips have been supported by Hyper-Threading technology, and they are quite suitable for use in inexpensive gaming computers. Honestly: I was hoping that Intel would also release a laptop version of this processor. Laptops with a 4-stream Pentium and GeForce GTX 1050 Ti graphics would perfectly show themselves in modern games. And they would have cost much less. Now, a laptop with a Core i5-7300HQ processor and a 4-gigabyte version of the GeForce GTX 1050 costs at the most 50 thousand rubles.
Therefore, let's note one of the main results of 2017: in the market of gaming laptops there is no competition therefore, Intel and NVIDIA do not make sense to go to a meeting with buyers. It remains to be hoped that 2018 in this plan will be a turning point. Nevertheless, the AMD Ryzen processors have potential.
⇡ # See the AMD gamblers? No? And they are!
On the potential of notebooks with AMD Ryzen in 2017, we could judge by model ASUS ROG Strix GL702ZC . The Taiwanese company has put on sale modifications with full-fledged desktop chips Ryzen 5 1600 and Ryzen 7 1700, the TDP level of which is 65 watts. At the same time for FPS in games in these laptops is responsible for mobile version of Radeon RX 580 with 4 GB of video memory.